Our city and campus
Find out what it's like to live and study in Bath.
---
Bath is a beautiful city set in the rolling green hills of South West England. It's famous for its natural hot springs and Georgian architecture. In fact, Bath's so special it's the only entire city in the UK that's a UNESCO World Heritage Site.
But Bath's not only special because of its history. It's a great place to live, learn and work. There is a thriving business community in Bath, making it an exciting location for a range of organisations from entrepreneurs to global leaders. For more information on Bath's businesses and opportunities, visit Bath Unlimited.
Aim higher with the University of Bath School of Management
Hear from students from across a range of our courses about life at the School. Kick-start your career and discover a new side to business.
---
Become part of our community.
Bath is a small but busy city, with just under 90,000 residents. The student population is around 20,000, so you won't feel alone.
Bath is also known for its safety, with some of the lowest crime rates in the country. It's ranked as the second safest city in England and Wales to study in (The Complete University Guide).
The University of Bath is a campus university. This means all our teaching, leisure and research facilities are in one place.
Our Claverton Down campus is one of the safest in the UK and was one of the first in the country to win a national police approved security award.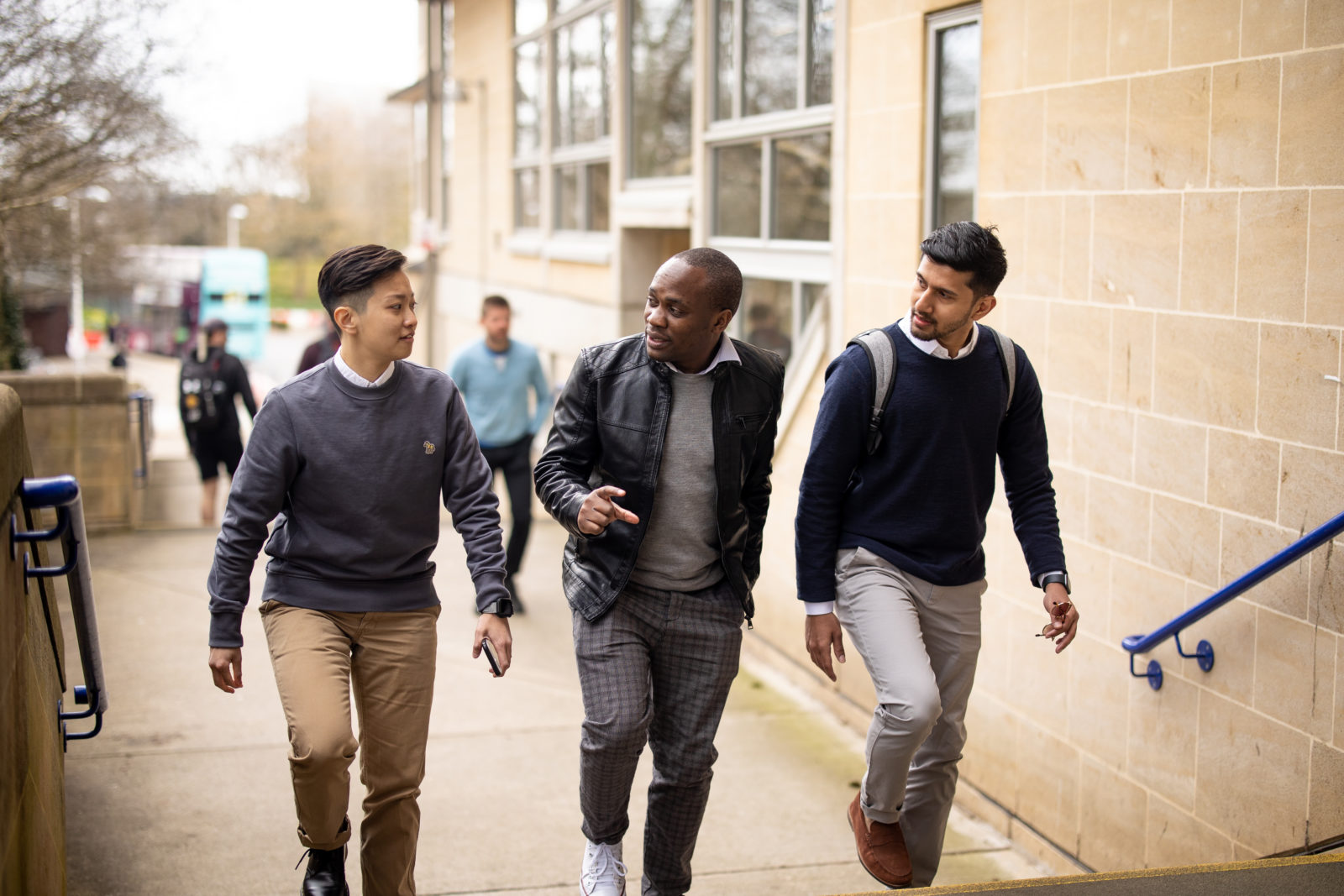 Accommodation in Bath
Find out about finding a home in Bath either on campus or in the city.
---
Sport, culture and standard of living
---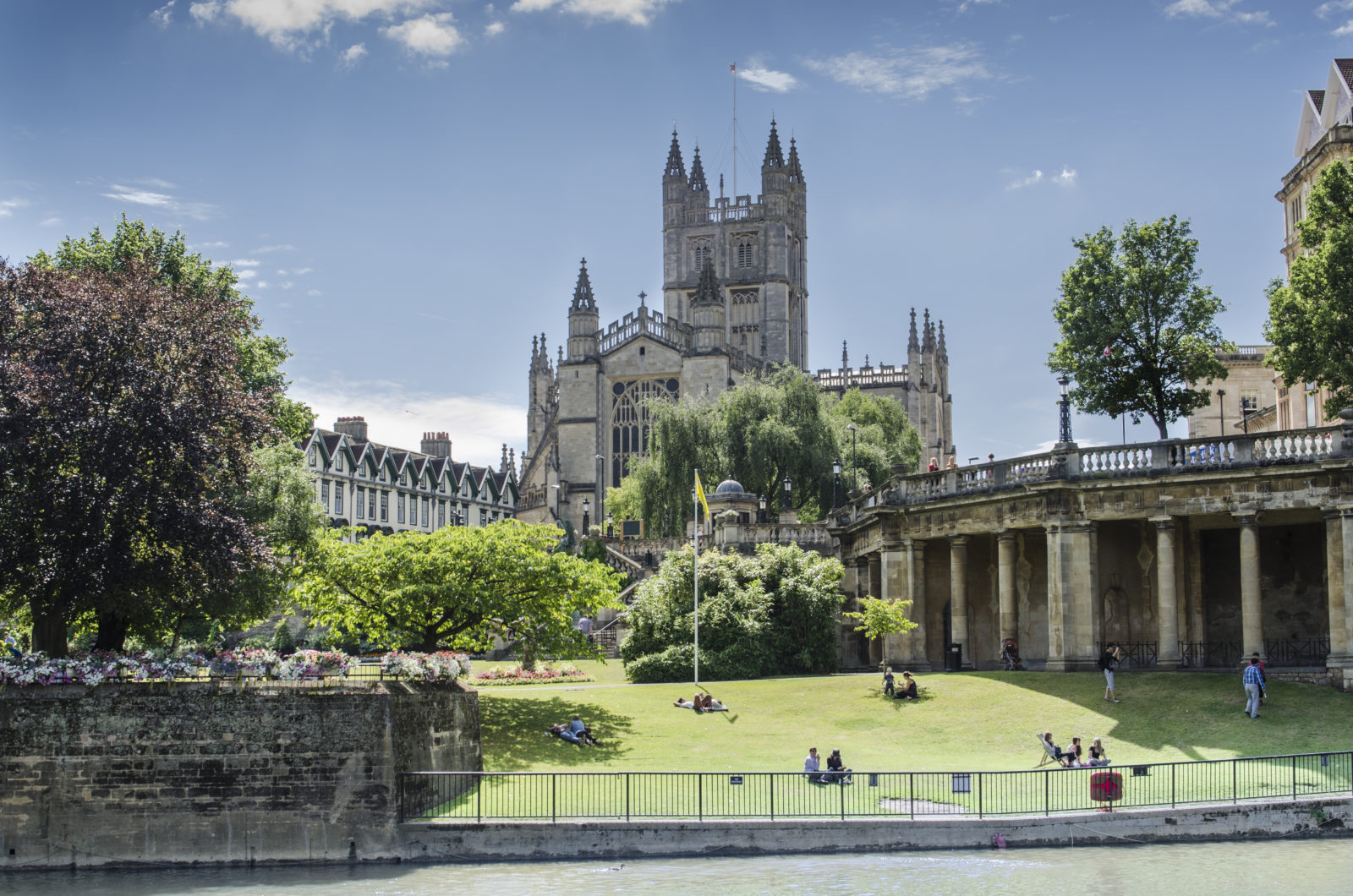 Bath and your family
Find out about the facilities for families in Bath.
---
Transport
Bath has great connections to other cities and the rest of the South West.
---
Bath's location makes it easy to get where you want to be. Bristol Airport (serving over 100 destinations) is under 20 miles away.
Bath Spa train station is on the main line between Bristol and London Paddington. It can be reached from the North and South via Bristol Temple Meads. Approximate journey times by train:
Bristol – 15 minutes
London – 1 hour 20 minutes
Birmingham – 1 hour 40 minutes
Cardiff – 1 hour 10 minutest
Southampton – 1 hour 20 minutes
Exeter – 1 hour 20 minutes
There is a regular bus service, great for getting to the city centre and surrounding areas.
We're also walking and cycle friendly and actively encourage commuting to campus by bike or on foot. If you can get up the hill to the University, you'll find modern shower and storage facilities.
Parking
Parking on campus is limited. If you are living in private accommodation you will be able to apply for a parking permit. Find out about costs and how to apply.
Innovation and growth
Study in an evolving city.
---
You'll be surrounded by exciting opportunities in Bath. The city is home to some amazing businesses, often global leaders in their field. Listed as the most progressive city in the UK, Bath is also known as one of the world's top 20 small cities. It's a fantastic place to live, learn and work.
For more information on Bath's businesses and opportunities, visit Bath Unlimited.
The South West of England is an ambitious, international region that balances quality of life with growth and opportunity for UK businesses. Our region is one of the most innovative outside of London (Paymentsense), and the range of sectors include aerospace and advanced engineering to Fintech, creative, digital and more.
The West of England:
has an economy worth £40 billion a year

comprises 46,000 businesses